Hi, I'm Flourish Klink.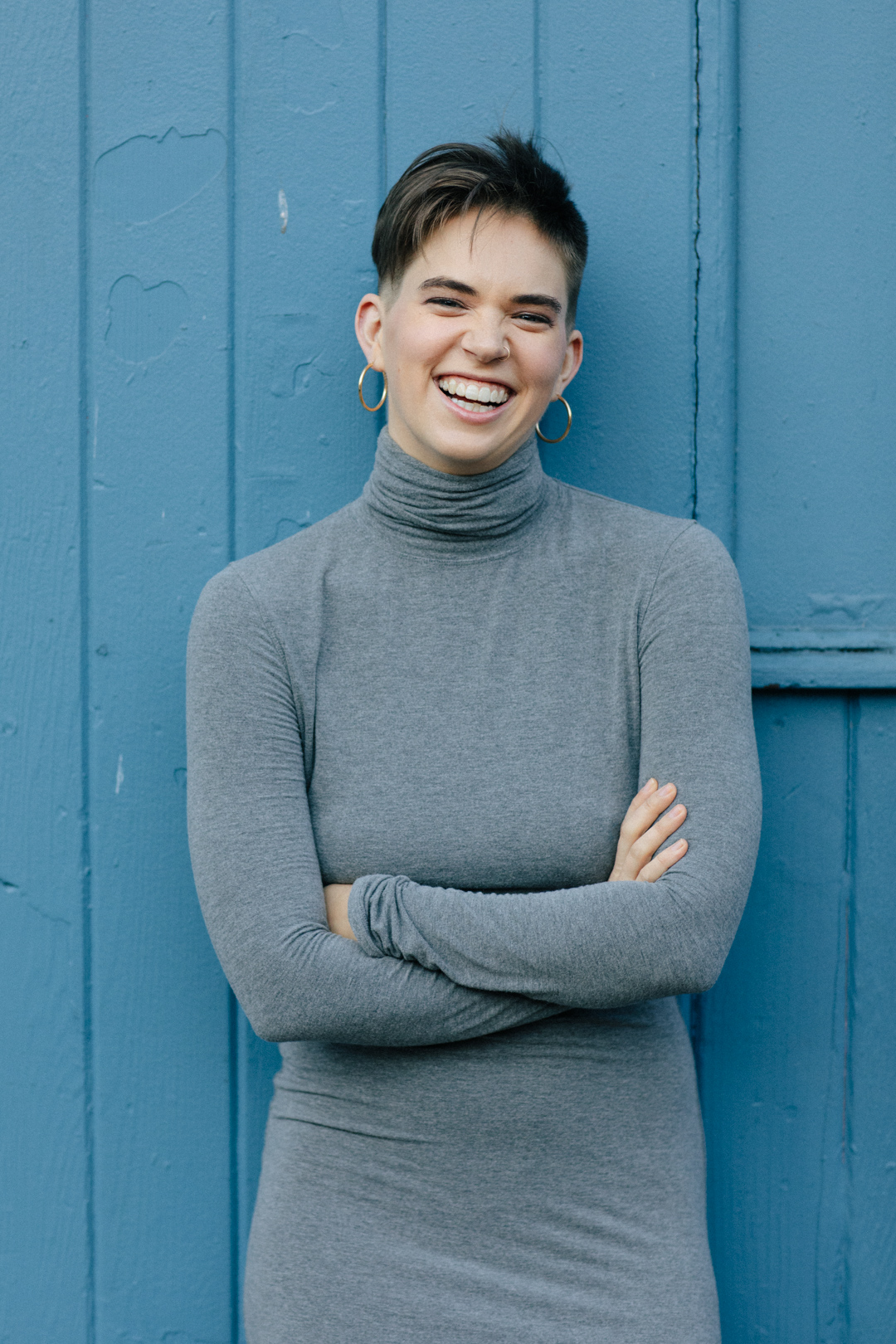 I help people learn, think, and strategize about fan culture.
Sometimes, I write stories and make games.
I'm Chief Research Officer & partner at Chaotic Good Studios.
I'm the co-host of the podcast Fansplaining.
I knit, lift weights, and am in the midst of a project to read every Star Trek novel ever published.
Get in touch
(Also: LinkedIn, Tumblr, Instagram, Medium.)
Formal Biography, &c.
Flourish Klink creates transformative works of fiction and studies fans and fan cultures. She is the Chief Research Officer of Chaotic Good Studios and lives in New York and Boston with her spouse, Nick Montfort, and their dog Pepys.
Flourish earned a Masters in Comparative Media Studies from the Massachusetts Institute of Technology and a B.A. in Religion from Reed College. However, her professional life began years before her schooling. At age 13 she was one of the co-founders of FictionAlley.org, the first fanfiction site to be nominated for Webby and Prix Ars Electronica awards and (for a time) the largest archive of Harry Potter fanfiction on the web. In 2003, she was the web chair for Nimbus-2003, the first Harry Potter fan convention; her involvement with cons continued through 2012, when she served as lead organizer for a convention, Ascendio, and she served as a board member for the nonprofit fan organization HP Education Fanon (HPEF).
After completing her schooling, Flourish joined The Alchemists Transmedia Storytelling Co. as a partner and Chief Participation Officer. While with The Alchemists, she worked on a wide variety of projects, from consulting for the Coca-Cola Company to co-writing and co-producing the mobile game for the film Transcendence to planning the transmedia strategy for hit Hulu show East Los High. She then joined Chaotic Good Studios as a partner and Chief Research Officer. There, she leads the Fanalytics team in performing qualitative and quantitative analysis of fan cultures, provides strategic insight into building and maintaining evergreen fandoms, and works directly with writers and creators to help them understand their stories' fans.
With Elizabeth Minkel, Flourish co-hosts the podcast Fansplaining. She was a founding director of the Interactive Fiction Technology Foundation, a nonprofit that helps ensure the ongoing maitenance, improvement and preservation of the tools and services crucial to the creation and distribution of interactive fiction. She has worked on several games as a writer, designer, producer and/or programmer and has written many works of fanfiction, as well as branching narratives and works of conceptual poetry. She has presented her work in the US, UK, France, Mexico, Colombia, Brazil, and Canada.
If it is useful to you, you may download a less-than-100-word biography suitable for the entertainment industry or a less-than-100-word biography suitable for creative work. A high-resolution headshot is also available; please credit Sylvie Rosokoff.
Some things I've done, written, and made
Ongoing Projects
I'm one of the cohosts of Fansplaining, the podcast by, for, and about fandom. Pitched to an audience of sophisticated fans, academics, and entertainment professionals alike, it seeks to examine fan cultures from an insider's point of view.
Every Star Trek Ever is my project to read the complete Star Trek novels. There are nearly 800 by my count. I have read approximately 10% so far.
Just For The Cameras is a postmodern novel about One Direction. You can read the first draft on Wattpad. I am currently editing it, and the second draft is being posted piece by piece on the Archive Of Our Own.
My current strength goal is to bench one plate (135 lbs), squat two plates (225 lbs; achieved) and deadlift three plates (315 lbs).
Older Projects
"100 Imagines About Harry Styles" is a conceptual poem. It is not yet released.
Though it isn't my project, I've been thrilled to be a part of Nathalie Pozzi and Eric Zimmerman's installation-game Waiting Rooms.
WhoKilledLaura.com is a single serving site relevant to Twin Peaks.
I occasionally write for the online zine HiLoBrow.
Sometimes I am also persuaded to write other things online, such as this Vox article about the Beyhive going after Rachel Roy, some thoughts on the entertainment industry's relationship with fandom for my company's Medium, or articles for Fansplaining's Medium.
I co-wrote and co-produced Transcendence: Origins, the mobile game for the movie Transcendence.
"Fred & George" is a remake of Nick Montfort's "Taroko Gorge" with a twincest twist.
Alternity was a journal-based roleplaying game, essentially a collaborative writing project, based on Harry Potter. It ran seven years, in which authors wrote diaries about a Harry Potter alternate universe in real time. Documentation is forthcoming.
Muggle Studies is a parser-based work of interactive fiction. It won a XYZZY award for "Best Supplemental Materials" in 2012.
In The Sonnet Project, I read all of Shakespeare's sonnets on video, making videos of them freely available online for the first time. (There has since been a "Sonnet Project" TV show, unrelated to me and my sonnet project. I recommend picking it up rather than my videos if you really want to explore the sonnets, as it has much higher production value.)
I helped write and run Civilité, a pervasive game adaptation The Count of Monte Cristo designed by Rocket Moon Lee for their MIT graduate thesis.
I collaborated with the rest of my MIT graduate class to create an online edition of the poetry anthology Des Imagistes, edited by Ezra Pound.
I've written a great deal of other fanfiction, available on the Archive of our Own.